Station Seven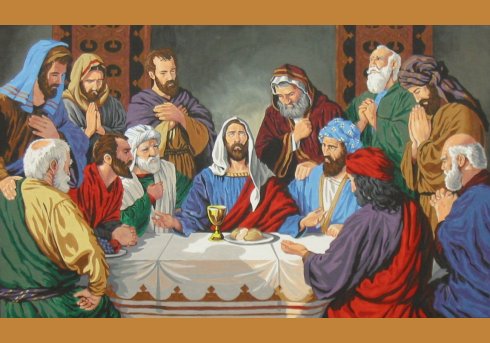 A paint-by-number oil of the last supper, painted by Martha Stratton
Luke 22:7-8
Then came the day of Unleavened Bread on which the Passover lamb had to be sacrificed. Jesus sent Peter and John, saying, "Go and make preparations for us to eat the Passover."
Mark 14:13-26
So he sent two of his disciples, telling them, "Go into the city, and a man carrying a jar of water will meet you. Follow him. Say to the owner of the house he enters, 'The Teacher asks: Where is my guest room, where I may eat the Passover with my disciples?' He will show you a large upper room, furnished and ready. Make preparations for us there."
The disciples left, went into the city and found things just as Jesus had told them. So they prepared the Passover.
When evening came, Jesus arrived with the Twelve. While they were reclining at the table eating, he said, "I tell you the truth, one of you will betray me-one who is eating with me."
They were saddened, and one by one they said to him, "Surely not I?"
"It is one of the Twelve," he replied, "one who dips bread into the bowl with me. The Son of Man will go just as it is written about him. But woe to that man who betrays the Son of Man! It would be better for him if he had not been born."
While they were eating, Jesus took bread, gave thanks and broke it, and gave it to his disciples, saying, "Take it; this is my body."
Then he took the cup, gave thanks and offered it to them, and they all drank from it.
"This is my blood of the covenant, which is poured out for many," he said to them. "I tell you the truth, I will not drink again of the fruit of the vine until that day when I drink it anew in the kingdom of God."
When they had sung a hymn, they went out to the Mount of Olives.
Imagine yourself at a large family gathering-maybe at holiday time. Extra chairs have been brought in and card tables have been set up so that everyone can fit around the table. What does it feel like to be there? Do you feel close to the people around the table, or do you feel separated from them? How would the gathering that you are thinking of be similar to or different from the time when the disciples gathered to celebrate the Jewish Passover? The disciples loved each other and were devoted to Jesus. And Jesus wanted desperately to spend time with them! What would it have been like to be a part of that group? Can you imagine yourself there? Think now about Jesus, he is sitting across the table from you-your eyes meet. Do you know him? Do you feel close to him? Do you love him? Take a few moments to tell Jesus what you feel. Julian of Norwhich, an English mystic lived during the fourteenth and fifteenth centuries and wrote this prayer.
God, of your goodness, give me yourself; for you are sufficient for me. I cannot properly ask anything less, to be worthy of you. If I were to ask less, I should always be in want. In you alone do I have all.
Julian of Norwich (1342-after 1416) English mystic